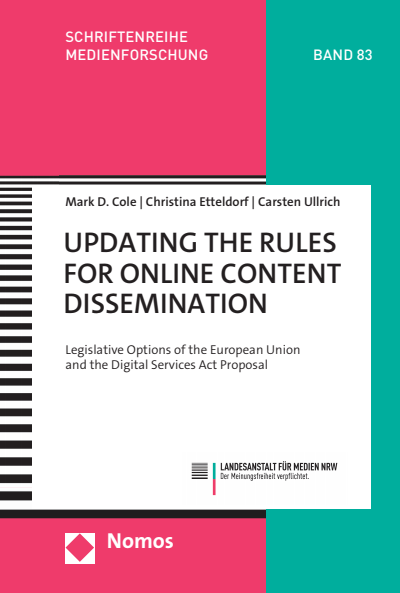 The current legal framework for online content dissemination has proven insufficient to effectively combat illegal content. The Commissions' proposal for an EU 'Digital Services Act' aims to update the horizontal framework for intermediaries and create a safe online environment. However, as far as content mediation is concerned, European fundamental rights and values require that the specificities of media law must be taken into account.
The Institute of European Media Law (EMR) in its study
Updating the Rules for Online Content Dissemination 
Legislative Options of the European Union and the Digital Services Act Proposal
conducted on behalf of the Media Authority of NRW, addresses this highly important issue by presenting needs and limits of a future legislative framework from the perspective of the media sector. The authors Prof. Dr. Mark D. Cole, Christina Etteldorf and Dr. Carsten Ullrich describe the current legal framework and the Proposals for a DSA – as well as briefly for a DMA, and provide a comprehensive assessment from the media perspective, complemented by alternative proposals for further improvement to be considered in the currently running legislative procedure.
The study identifies and focusses on five core issues for reform: 
the question of the futureshape of the clarification of the country of origin principle and its exceptions,
the personal and substantive scope of application of the framework for ISS,
the liability privilege regime,
obligations and duties for service providers including the respect for user rights,
and finally specific issues on the institutional set-up for monitoring of compliance and enforcement 
For each of the five issues the study presents different possible solutions and gives an overview of discussed options before giving the assessment of the concrete proposals in the DSA and DMA.